Our customer is the core to our quality guidance, we produce high quality products, using advanced quality management system base on data and process flow, together with high precision test and inspec
● We have passed and acquired ISO 9001, IATF 16949, ISO 13485 and ISO 14001 quality management system standard certification, and we have established an excellent systematic quality management system.
● We have invested in high-precision testing equipment and multi-function testing equipment to enable full coverage of product with zero blind spot, from raw material, prototype, process product and to mass produced product. We perform 100% automatic inspection to key dimensions, to fully ensure our product quality.
● We have established an industrial advanced level inspection and test center. We creates customized full process quality control inspection and test solutions, and input data straight into our ERP system, hence we achieve full process control and quality data traceability of the product life cycle, from raw material, prototype, process product and to mass produced product. .
● It is the consensus of all employees to insist that high-quality products are the result through manufacturing rather than inspection. We continuously improve the product process to improve the quality, constantly optimize foolproof measures, and strive for excellence. The production capacity of product characteristics and required dimensions usually reach and pass CPK ≥ 1.67, exceeding the expectations of most customers.
● The implementation and daily use of statistical technology (SPC, MSA) ensures the consistency and reliability of testing. We take control with precautions when there is a changing trend of data, to ensure the implementation of zero defect sampling plan (C = 0) in the full process quality control system.
● Corrective and preventive measures (CAPA) shall be taken in time for problems in the production process, and active prevention shall be carried out in parallel and horizontally. All suspected products shall be treated as unqualified products, to effectively ensure the product quality.
Equipment
Our company not only have several high-speed computer-controlled spring coiling machines, multi- axis balance bar(link) forming machines, torsion spring forming machines, tension and compression spring forming machines, precision high-speed punches and other production equipment, but also has several wire cutting machines, grinders, material leveling machines, heat processors, ultrasonic cleaning machines, automatic riveting machines, automatic packaging machines, optical image inspection machines, multiple axis tapping machine and other auxiliary equipment for subsequent work provide enhanced guarantee for the high quality of products
Spring equipment: Machinable wire diameter: 0.06mm-2.0mm

Balance bar equipment: Machinable wire diameter: 0.25mm-2.0mm

Stamping equipment: machinable material thickness is 0.05mm-5.0mm, die length is less than 1.5m, and die processing accuracy is less than 0.003mm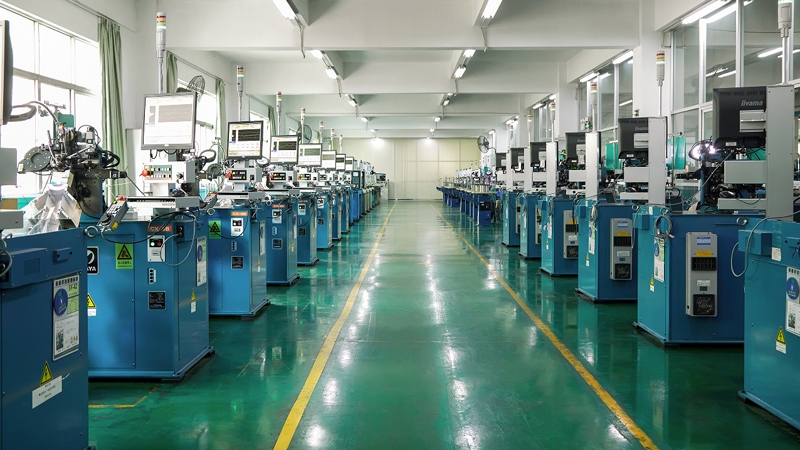 Testing
Our company not only own several optical image measuring instruments, tensile pressure testing machines, torsion testing machines, X ray fluorescence spectrometers, constant temperature and humidity machines, fatigue testing machines, salt water spray testing machines, microscope, high-definition image magnifying glasses and other testing equipment, but also has several self-made inspection and treatment tools, so that the size and function of products can be inspected from raw materials to factory inspection, production process control. These equipment allows us to check at all product life cycle stages, enhancing and guarantee product through the full use of insepction and testing facilities.
Original and customized built special fixture for testing

100% automatic inspection for key dimensions

Reduce the detection error and fully ensure the quality of each product